Fellow sourdough freaks, I give you a graph of the growth rate of the two
primary sourdough critters, Lactobacillus sanfransiscensis (the sourdough
bacteria) and Candida milleri (the wild yeast), by temparature (Celsius), as
described in the sourdough
FAQ and I believe
also in this paper by Gänzl et
al. There are graphs in the
paper, but they're not superimposed. My imagination is imperfect so I made
graphs based on the curve equation given.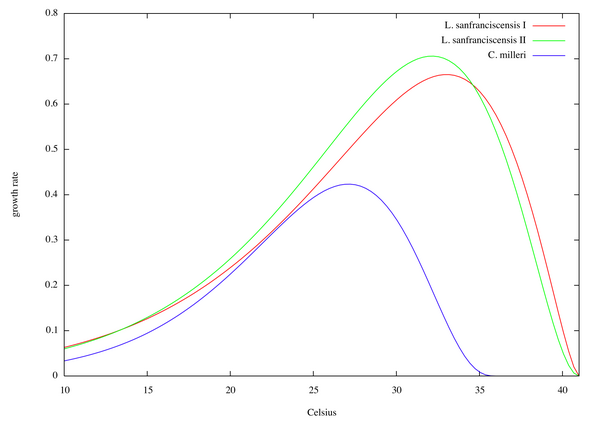 The take-home lesson is that the bacteria grow faster than the yeast at higher
temperature, so if you want more sour proof at a higher temperature. Rumor has
it that "flavor" develops better at cooler temperatures though so you might be
trading "flavor" (whatever that is) for more sour. I think they mean the
elusive bread faeries that seem to visit when you retard your dough in the
fridge or in autolyse or something.